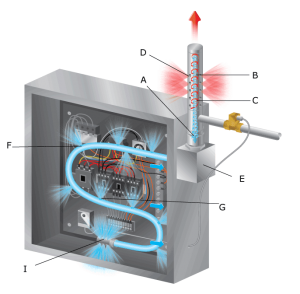 These air cooler operate by using a vortex tube to cool the compressed air. A vortex tube accelerated the inlet compressed air (A) so that it rotates rapidly. As it expands and rotates up the tube it heats and is pushed to the side of the tube (B) this draws heat energy from the air in centre of the vortex tube (C) which is displaced downwards. In this way the cool and hot air are separated. The hot air then vents form the system through holes (D). A further hot air vent (E) allows displaced hot air from within the cabinet to vent. The cool air generated in the vortex chamber is then distributed within the cabinet through a tube with holes (F)(G)(H) and (I). These holes can be strategically drilled / positioned so that cool air blast directly hot spots such as CPUs. The cool air, once within the cabinet, will mix will and cool the hot air displacing it and forcing the warm air through vent (E).
Wattage
Each vortex tube is rated to a specific wattage this represents the overall cooling capacity of the tube. The cooling power ranges from 85 to 849 watts with six gradations.
Nema/IP rating
The American Nema standard and its European IP rating equivalent are a measure of how protected a system is against water/ dust contamination. The rating will determine under what conditions the equipment can operate effectively.
The vortex cabinet coolers come in three different models / Nema/IP ratings.
Nema 12 /IP 54 – These enclosures will be protected against falling dust and water splashes. This will be for indoor use.
Nema 3R /IP 14 – These enclosures are protected against the elements (wind, snow, rain, sleet) and so are suitable for outside use. They are also protected against fall dust but NOT blown dust.
Nema 4 -4X / IP66-  These are fully water tight and will be tested against deluge by 245 l/minute nozzle spraying at a distance of not more than 3 meters for 5 minutes
Build type
The basic vortex tube can be fitted with a number of add-on items we have organised the product set into a variety of different "builds" reflecting the addition of the following items:
Build A- Just the cooling tube with no filter or air distribution hose
Build B- Cooling tube and air distribution hose
Build C- Cooling tube with filter and air distribution hose
Build D – Cooling tube with filter, air distribution hose and thermostatic control
Build E – Cooling tube with filter, air distribution hose and electric control
Frigid-X vs Silent-X
The standard cooling system is the Frigid-X but when fitted with inlet and outlet mufflers the system becomes the Silent-X. The Silent X models are significantly quieter as per the table below. The silent X models require filters and air distribution systems i.e. they are only available for builds C-E.